You may recognize Em and Siraaj Muhammad from our photos or you may have even had the honor of receiving some of their bodywork at a Honey Pot topical spa event over the years. With Valentine's Day around the corner, we sat down with one of our favorite couples to talk cannabis topicals, massage tips, and love.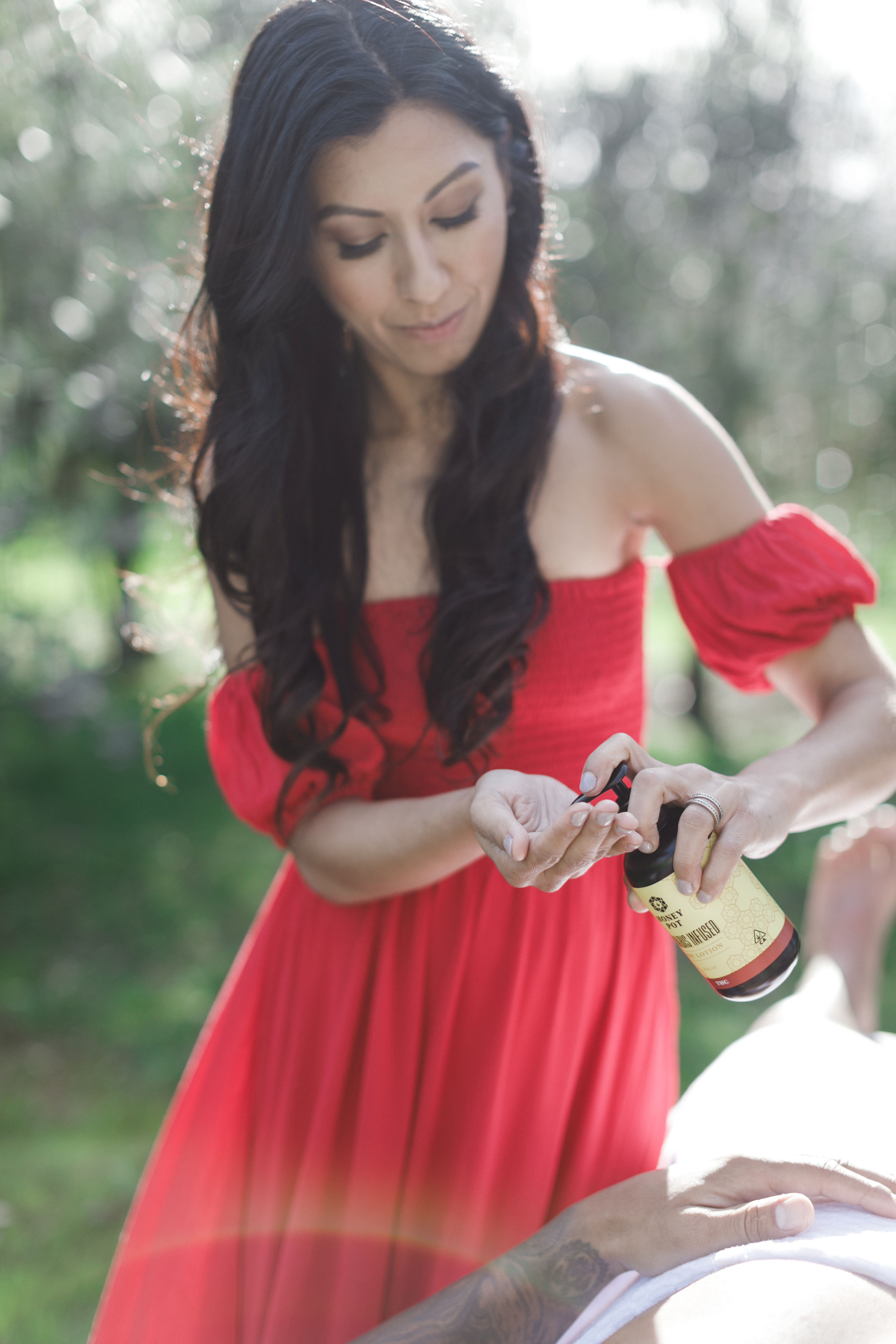 Michelle Muhammad "Em" has been a Massage Therapist, LMT, and NCBTMB (National Certification Board for Therapeutic Massage and Bodywork), for ten years. "My life's work is centered around providing a positive and therapeutic touch to aid as a catalyst in people's healing journey," she says.
Siraaj is in sports medicine with an MS in ATC (Athletic Training). He specializes in rehabilitation and treatments for athletes as it relates to manual and physical therapies and has been practicing for six years. The two have been married for eight years and say they are "extremely passionate about the work we do, especially when we can work together."
What are some of the benefits you find by incorporating cannabis into your massage therapy?
"As therapists and clinicians, the outcomes produced by the marriage of cannabis-infused topicals and massage are mind-blowing.  Since the topicals are area specific, our clients have experienced benefits for inflammation, spasms, sore muscles and even skin conditions such as eczema and psoriasis. The anti-inflammatory, analgesic, antifungal, antioxidants amongst other properties of THC and CBD provide an effective pain relieving blueprint for massage.  My favorite benefit of a THC topical is it's analgesic abilities to relax the targeted area.  When the targeted area is relaxed, all muscle guarding subsides and the body's ability to heal speeds up tremendously.  CBD and THC on their own produce pain relieving benefits but when combined together, they provide an even greater medical relief to the user.  The THC and CBD are able to bind to different and more cannabinoid receptors, in turn regulating the immune system."
What are some ways to introduce cannabis-based products into a relationship?
"A great way to introduce cannabis products into the relationship is by simply gifting your partner with the product(s).  Education and knowledge is everything when trying new products.  People should understand the benefits of what they're using and also feel the product.  Personal testimonials speak volume when it comes to introducing something new so any information you can offer your partner in terms of how it has benefited you, certainly helps."
How can one make their partner feel comfortable before giving them a massage? What's the best way to set the mood?
"Tips for setting the mood mostly include calming the nervous system by catering to the 5 senses.  This could include Dim lights, candlelight or Amber lights, soft music, some sort or aromatherapy whether it be candles or a diffuser; we love lavender, arnica, and sage and lastly, we recommend sipping on some CBD or chamomile tea before and/or after a massage as well."
Do you have any specific techniques or areas to focus on the body to create a sense of bonding?
"Areas to focus on when creating a sense of bonding are usually the neck and shoulders as they store a lot of tension from everyday repetitive motion. Typically, most people sit behind a desk for long periods of time which affects the neck and shoulders.  The lower back/sacrum areas hold a lot of tension as well and it also stores a lot of emotions, so you want to be extremely nurturing and gentle when focusing on this area.   Lastly, the heads/hand/feet are energetic outlets for the body so they generally store a lot of tension.  We always recommend clear communication with your partner.  Verbally communicate with your partner where you'll be placing your hands and get their agreement before doing so."
If someone is not coupled up what are some stress relieving techniques they can perform on themselves?
"If someone is not coupled up and doesn't have access to self-care massage tools, we recommend using a CBD or THC topical and applying it to the area of focus.  You can use small circular strokes on areas like your temples or wrists.  You can also use a technique known as muscle stripping that works well on the neck or forearms.  When using muscle stripping, place your thumb or index finger where the muscle starts and with medium to firm pressure, drag your thumb or index finger down to where the muscle ends.  Do this a few times or until you feel the muscle soften.  Massaging the bottoms of your own feet relieves a lot of tension not only in the feet but throughout the body as well.  There are many nerve receptors in the feet that can activate other points throughout the body, often referred to as reflexology."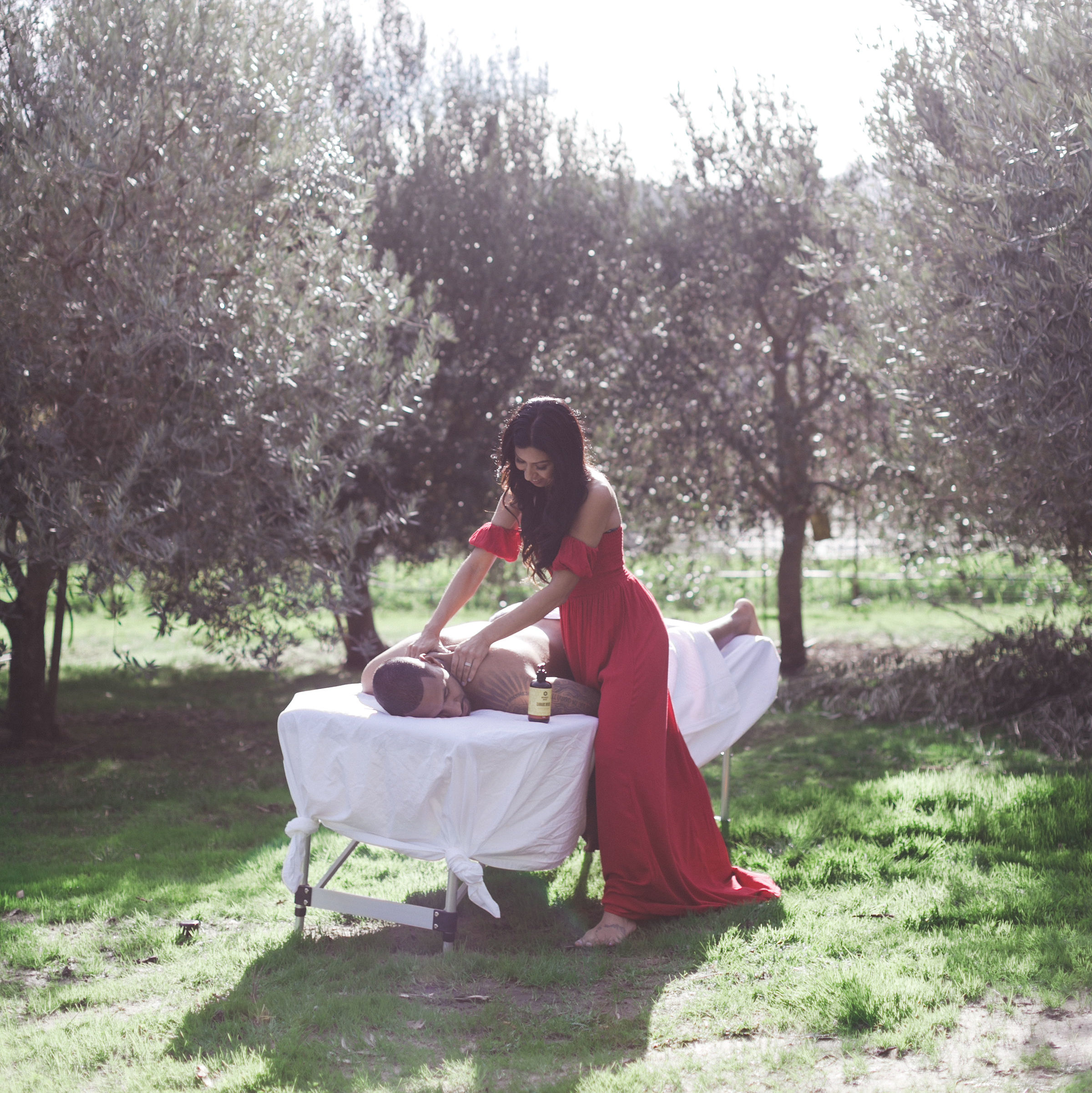 For more information and services: Check out their website shenuat.com
Photography by J. Skog MJ Lifestyle