I have a lot to be grateful for as we enter this holiday season. 2018 has been a year of growth for not only Honey Pot, but for the cannabis community across California. I am very proud of what we have been able to accomplish during this year.
We rebranded, redesigned and redeveloped. It hasn't been easy to survive the changing regulations and I could not have done it without the help of my team and my partners. The opportunity to share Honey Pot with people and the joy it brings to them is something I will always be thankful for.
Below find a few ways that you can share Honey Pot this holiday season with those you love. We wish you all the best for your chosen celebration and we're so excited for what 2019 has in store for us all!
From our family to yours,
Corey Thomas
---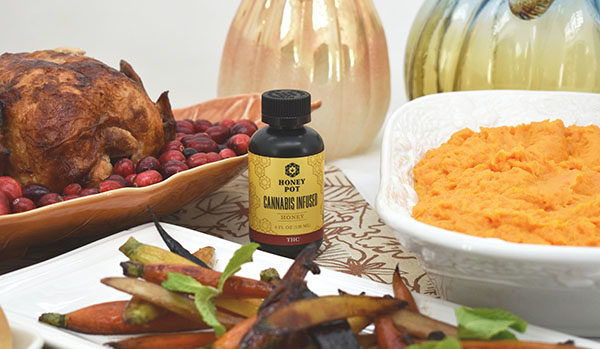 Honey Roasted Carrots
(5 – 10mg Servings)
2 LBS Baby Carrots
3 TBSP Butter
3 TBSP Dark Brown Sugar
¼ Cup Honey Pot (50 mg)
Kosher Salt
Rinse baby carrots in cool water and pat dry.  Melt butter in large skillet over medium-high heat.  Add carrots and stir to coat in butter. Add brown sugar and Honey Pot, stir and toss to coat well and brown sugar melts.  Cook carrots until tender and glazed, stirring often, about 10 – 15minutes, depending on the size of carrots. Season with a bit of salt. Transfer to serving bowl dish or bowl, Serve!
---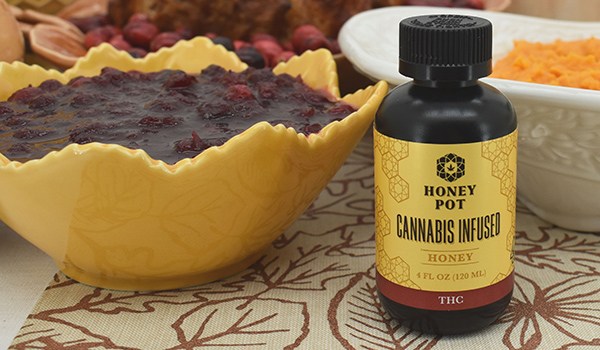 Honey Cranberry Sauce
(10 -10mg Servings)
½ Cup Honey Pot (100mg)
¼ Cup Honey
¼ Cup Water
¼ Cup Orange Juice
¼  Cup Orange Juice
1 TSP Orange Zest
1 Cinnamon Stick
12 oz Fresh Cranberries
In a medium saucepan, combine ¼ cup honey, ¼ cup water, ¼ cup fresh orange juice, 1 tsp orange zest, and 1 cinnamon stick. Bring to a simmer over medium heat, stirring to dissolve the honey. Add 12 oz cranberries and bring to a boil. Once it is boiling, adjust the heat to keep at a low boil and cook 10 minutes uncovered, stirring occasionally. The cranberries will burst and the sauce will begin to thicken, add Honey Pot. Remove from heat, discard cinnamon stick and cool cranberry sauce completely to room temperature then refrigerate until ready to serve. The sauce will thicken as it cools.
Enjoy!
---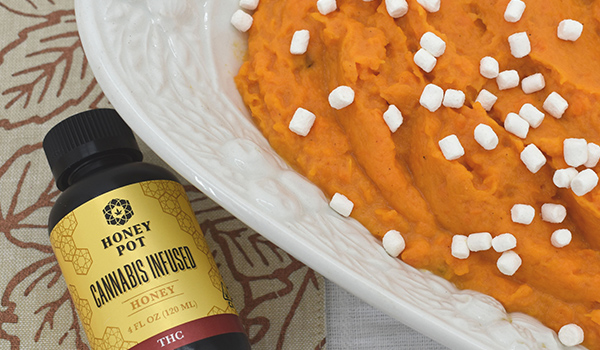 Mashed Honey Sweet Potatoes
(10 -10mg Servings)
6 LBS Sweet Potatoes
(peeled and cut into 1-inch cubes)
4 TBSP Honey Pot (50mg)
4 TBSP Unsalted Butter
¾ TSP Salt
Preheat oven to 375°. Place potatoes in a single layer on 2 large baking sheets. Bake at 375° for 1 hour or until tender, stirring occasionally. Place the potatoes, ¼ cup Honey Pot, butter, and salt in a large bowl, and beat with a mixer at medium speed until smooth. Add marshmallows (optional).
---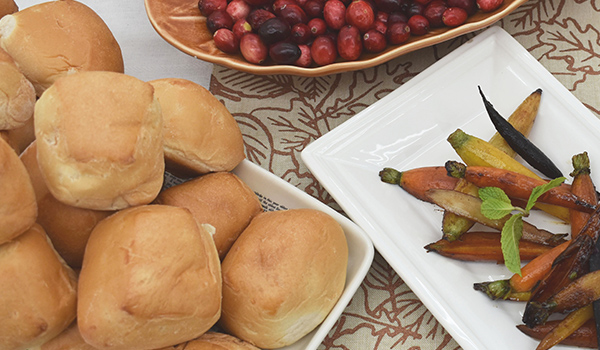 Honey Dinner Rolls
(Makes about 36 rolls 2.5-3mg per roll)
4 ¾ Cups All Purpose Flour
¼ oz Active Dry Yeast
1 ¼ Cups Milk
½ Cup Honey Pot (100mg)
¼ Cup Butter
1 TSP Salt
2 Eggs
Combine 2 cups flour and yeast in a large mixer bowl. Heat milk, Honey Pot, butter and salt just until warm (115 to120°F) and butter is almost melted, stirring constantly. Add to flour mixture; add eggs. Beat at low speed of electric mixer for 30 seconds; scrape sides of bowl constantly. Beat for 3 minutes at high speed. Stir in as much remaining flour as you can mix in with a spoon. Turn dough out onto a lightly floured surface. Knead in enough remaining flour to make a moderately stiff dough that is smooth and elastic (6 to 8 mins). Shape into a ball. Place dough in a greased bowl, then turn it once. Cover dough and let rise in a warm place till double (about 1 hour). Punch dough down; divide in half. Cover again; let rest10 minutes. Cut each dough half into 18 equal pieces. Roll into balls, and place in greased 2 1/2-inch muffin pans. Let rise until doubled (about 30mins). Bake in a 375°F oven for 12 to 15 minutes. Remove from pan. Cool on a wire rack.
Enjoy!